I shared a recent photograph with my colleagues. of my work space. I primarily work from home, but the requirements for teaching from home are somewhat different!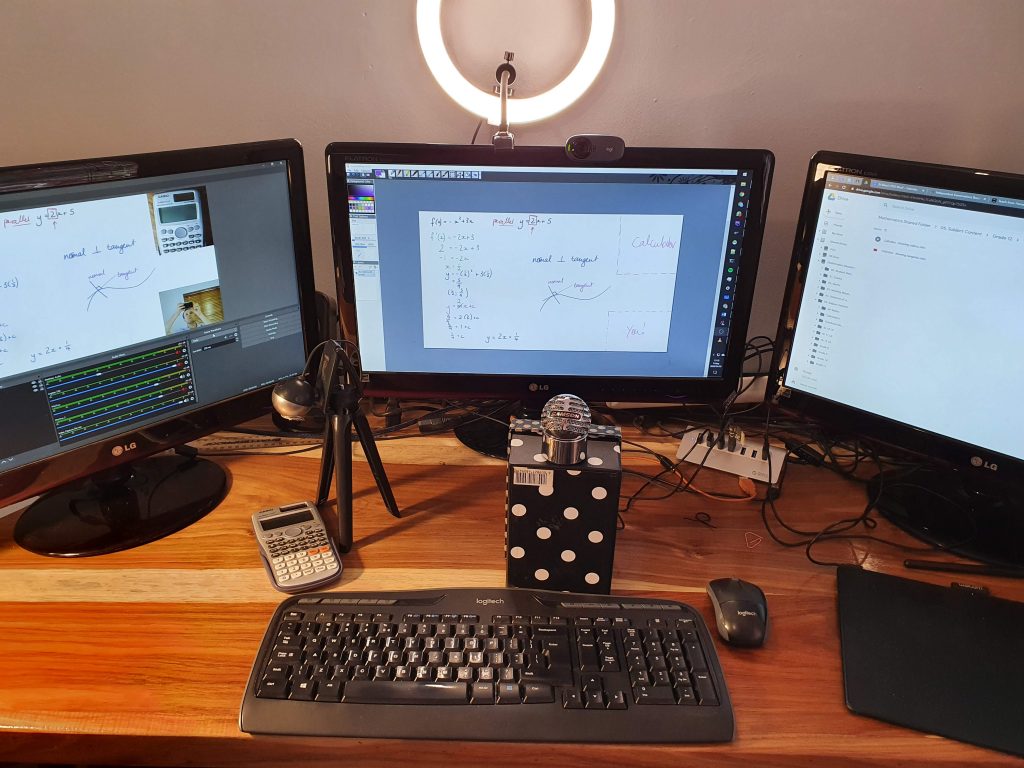 Hardware
I have a three monitor setup. The left runs the recording software (discussed later) and allows me to quickly stop, pause and resume recording, or switch between views.
I upgraded my webcam earlier in the year (unrelated to the pandemic – there was still stock back then!) and so my original one – which is now about 15 years old – is mounted on a mini phone tripod (I got it to stay with some elastic bands) and points straight down. The lighting for the camera could be better.
Above my middle monitor is a 720p webcam which aims at my face. I've also got a ring light for a bit of front facing light. Behind my desk is a window and, although it has blinds in front of it, can cause a few exposure problems without a front light.
I'm using a simple USB microphone. I didn't realise that it wasn't mic-stand mountable when I bought it online (designed to sit on a desk?) and so I've put it on a gift box to get it a little higher and closer to me.
Between the middle and right monitors is a USB3 hub to allow for quick connections to the different bits of hardware that I have.
Mt right-hand screen is used to run the Google Meet sessions.
Below the right monitor is an Wacom graphics tablet that I use to write. This is an older wired version. The newer versions are largely bluetooth and largely more expensive. In the Intuos range, this is a "Medium" sized tablet.
Software
OBS Studio which I use for recording and broadcasting. Using the OBS extension VirtualCam, I am able to show an image that contains the screen I'm working on (my middle monitor), the image from my main webcam and the "calculator cam".
I experimented with a few whiteboard-type software including SmoothDraw (pictured above), Microsoft Whiteboard (which can also be shared via link) and finally settled on Microsoft OneNote largely because of its "permanence". That is to say that it saves automatically, doesn't need to be erased (you can just add a new page) and, if saved in a shareable location, like your Google Drive folder, can follow you to different computers.
The shared OneNote has been useful now that we have returned to school. I use the graphics tablet on my laptop and will have all my whiteboard scribbling available to me – and synchronised back when I'm done.
Finally, our school chose to standardise on Google Meet for our online interactions with pupils. Mostly, these were for discussions and Q&A sessions, but in my case, particularly with AP Mathematics, I used the combination above to teach live lessons.
Process
We uploaded weekly work schedules with the work to be covered for the week, including exercises. With each activity, we assigned time frames to them to ensure that we did not overload the students with work and kept it at manageable levels.
At the end of the week, they uploaded PDF scans of their work (made with their phones) to Google Classroom to show that they were keeping up with the work. We posted solutions for all of the work that they did and the onus was on them to check and ask questions if they weren't sure where they had gone wrong.
A typical lesson would be recorded and, when done, uploaded to the Google Classroom for the students to watch again later – or for those who were unable to join the session for whatever reason.
Thoughts and Takeaways
Although our online teaching has come and gone (for the grades I teach, at any rate), if we were to continue, I would look at primarily upgrading the microphone (if only to free up desk space) by getting a microphone mounted on an adjustable arm. A better calculator camera is probably not required, but better lighting for it is. I do have a desk lamp to the left, but there is quite a substantial light difference across the face of the calculator.
The students particularly enjoyed being able to see what I was doing on the calculator (we did some trigonometry and being able to see the calculation worked through was useful).
I did not rely on the recording mechanism of Google Meet (although this was made available by Google to all schools and businesses). If pupils joined the Google Meet from the Google Classroom link before I did, the Meet was set as a "student" meeting and the recording options were disabled. The recommended settings from Google are to disallow pupils creating their own meetings, so that problem could have been avoided if we'd decided to implement that policy. Google Meets set up in Calendar invites did not suffer the same problems because, presumably, Google Meet knows from the outset who created the meeting.
There were a few occasions where my microphone didn't record sound (too much chopping and changing of USB ports meant that the computer saw "new" microphones, and the "old" microphones just weren't available for recording anymore). That meant having to record a few extra videos after the fact.
I found that as I did more and more videos, I became less fussy about the production quality. There are several videos of me with a few large pauses and "ums" as I endeavoured to work out where I'd made a mistake in my calculation. I didn't spend time editing the video, which could have hidden these moments, in the interest of getting the videos up quickly. I also found that editing them often increased their size dramatically (even when trimming content) and the upload was often much larger than the original.
It is possibly worth mentioning that all our videos were uploaded to Google Drive and shared from there. As an educational institution, we don't have limits on our storage space and so this made it an easy thing to do. The videos were then shared in Google Classroom. This meant that the videos could have a very specific audience, which a platform such as YouTube doesn't allow for: once the link to your private video is known, anyone can watch the video. I suppose that once your video is shared in Google Classroom the students could even download it and distribute, but it's a few steps of effort for very little in the way of reward!
I enjoyed the challenges of teaching online. There was definitely more effort involved in terms of preparation, but I enjoyed the process of learning something new and seeing how best to adapt my teaching skills to a new platform.